AI Service Desk
Deliver Magical Employee Experiences with AiseraGPT and Generative AI
Automate Your IT Help Desk with AiseraGPT
Aisera's AI Service Desk revolutionizes your employee support by combining the capabilities of a chatbot with an action bot. Its AI Copilot, with AiseraGPT, uses enterprise LLMs to engage in intelligent and human-like conversations while triggering AI workflows to effortlessly automate multi-intent and complex requests.
With AI Service Desk, organizations can reduce operational expenses, maximize productivity, and elevate the overall employee experience.
Trusted by Leading Companies
GPT-like Experiences with Generative AI
Deliver human-like conversations with natural language as the new user interface using Aisera's AI Service Desk, featuring intent understanding, disambiguation, context management, awareness, and exception handling, enabling ChatGPT-like interactions supported in over 100+ languages.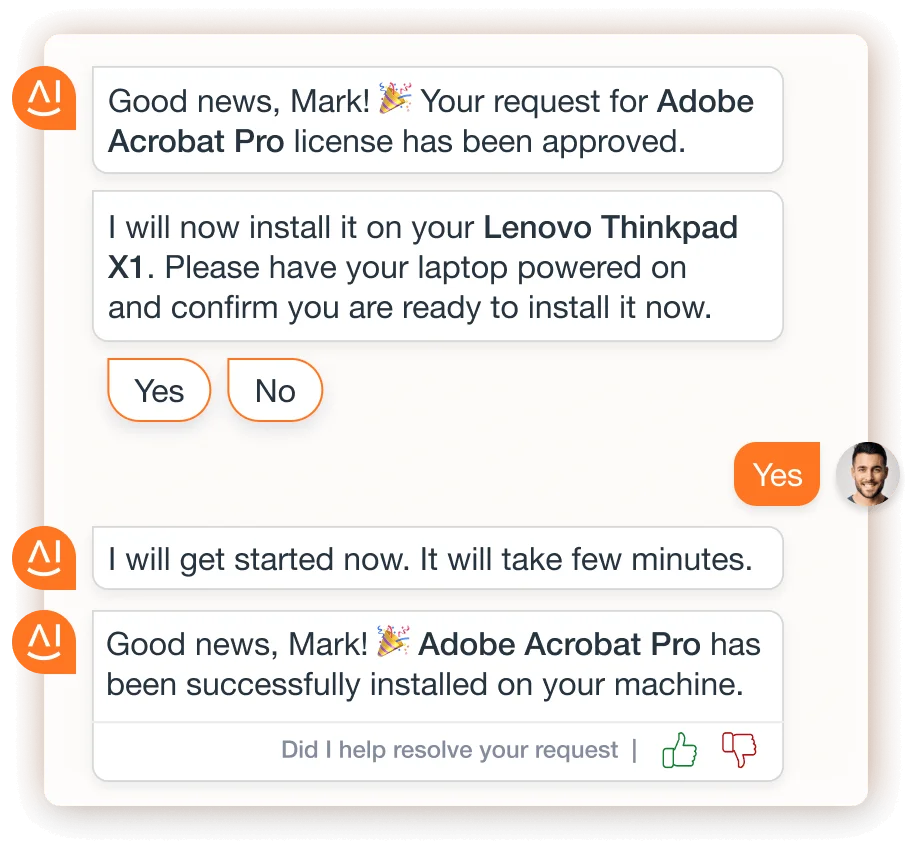 Multi-Domain Universal Bot
Elevate employee experience with Aisera's Universal Bot, employing industry and domain-specific LLMs – encompassing IT, HR, Legal, Facilities, Procurement, Supply Chain, Marketing, and Sales – to streamline your service desk and offer a unified interface for employees to ask any question, skillfully directing queries to the appropriate bot while facilitating seamless context switching during conversations.
Enterprise-wide Search with Generative AI
Search for data across multiple disparate data sources and business applications to dynamically generate answers and summaries in real-time utilizing RAG (Retrieval Augmented Generation) in your service desk, while also providing links for additional details.
LLM-Powered AI Workflow Library
Leverage 3,000+ pre-built and third-party LLM-powered AI workflows that can be triggered conversationally through system events, webhooks, schedules, and event data posted from other systems, in order to auto-resolve incoming requests, reduce resolution times, and increase case deflections in your IT help desk.
Rich, Pre-Built Integrations
Connect with 500+ enterprise applications such as ServiceNow, Atlassian Jira, and BMC, streamlining the automation of complex employee inquiries and empowering you to close gaps in your service desk on knowledge, automation, and conversational intent with ease. This robust integration ecosystem empowers users to streamline their workflows and enhance productivity.
Unsupervised AI & Human-in-the-Loop Reinforcement Learning
Utilize unsupervised AI to continuously learn from service desk tickets, knowledge sources, and conversation logs, fostering a deeper understanding of user intent and context. This ongoing learning process enhances response accuracy, ultimately delivering an accurate, consistent, and personalized employee experience.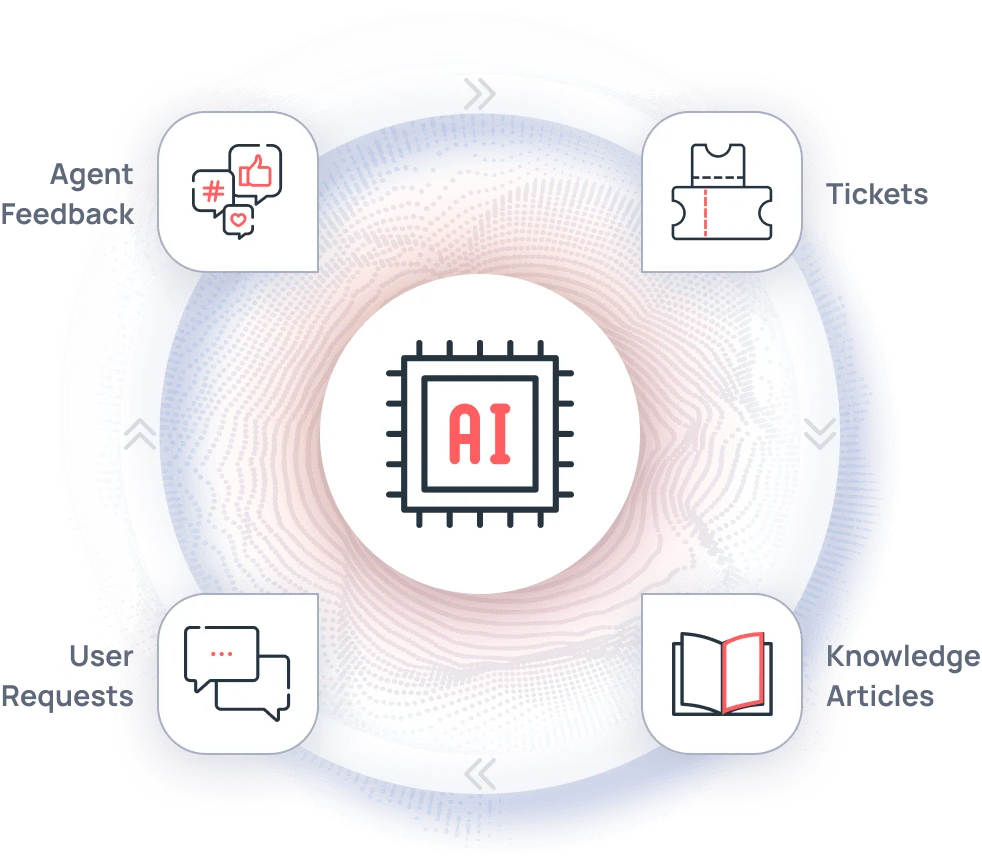 Seamless Escalation to Live Agents
Auto-detect sentiment and escalate conversations seamlessly to a live agent, ensuring a smooth and efficient escalation process to enhance the overall employee experience and satisfaction in your IT help desk.
AI Service Desk Products
Streamline support with 
automated resolutions for an exceptional service experience.
Revolutionize information retrieval with relevance ranking, intent, and query understanding in natural language.
Classify and route tickets to the right support agent based on category, root cause, and urgency.

Provide an engaging conversational experience for users on their preferred channel of communication.