Aisera and SAP Partner to Revolutionize Customer Experience
Aisera is a SAP AI Business Technology Partner and is one of eleven startups that have been carefully selected by SAP experts, partners, and customers to join the SAP.iO Foundry.
The partnership ushers in a new era of customer experience with Aisera's AI Copilot, harnessing the power of AiseraGPT and Generative AI. Built using industry and domain-specific LLMs, AiseraGPT enables intelligent, human-like conversations and provides instant self-service. It integrates with enterprise systems including SAP Service Cloud and offers quick and accurate responses to customer requests, leading to enhanced customer satisfaction.
Benefits
Enhance Engagement with Multichannel Support
Ensure instant, personalized resolutions across all digital and voice channels in 100+ languages to increase customer engagement and positive brand perception.
Reduce Support Costs with AI Workflows
Reduce the need for human intervention, auto-resolve requests, and scale the impact of your support team with AI workflow automation.
Increase Customer Satisfaction
Deliver a more delightful customer support experience with intelligent, accurate and human-like conversations that reduce resolution times.
Best-In-Class Generative AI Technology
Leverage Aisera's Neural Search and Retrieval Augmented Generation capabilities to create responses and summaries based on your data sources and business apps. With Aisera's verticalized LLMs for industry-specific intents and ontology, ensure context-aware and relevant responses.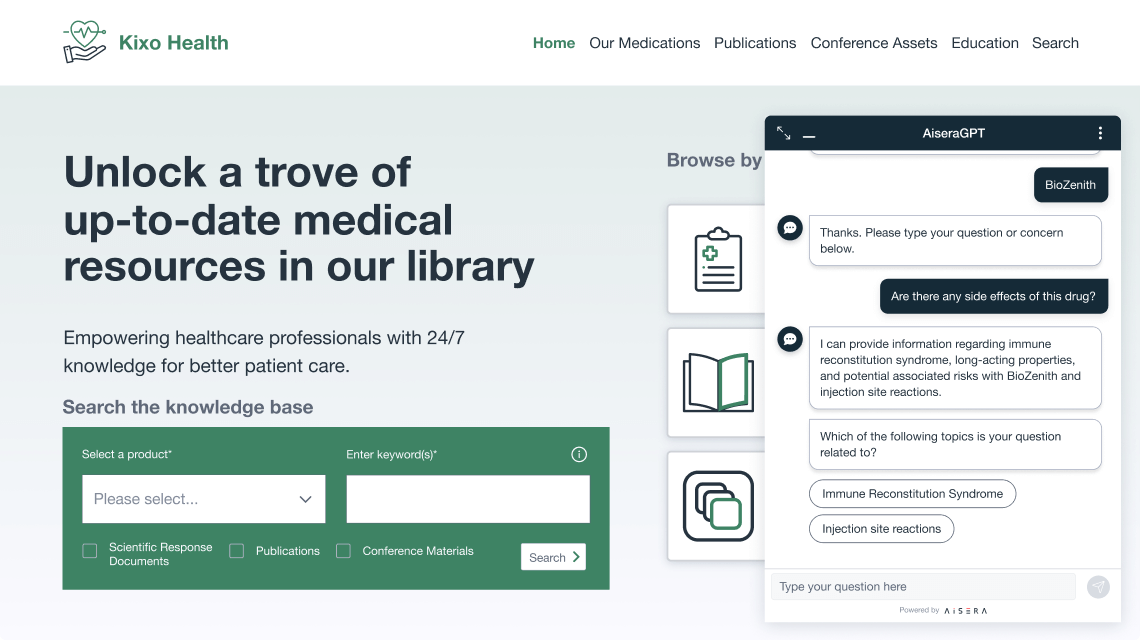 LLM-Powered AI Workflow Library
Automate business processes and interactions across multiple applications with 3000+ prebuilt AI workflows and 500+ connectors to various enterprise systems, reducing resolution times and boosting customer satisfaction. Aisera also imports existing third-party workflows from SAP, ServiceNow, and more and allows for the creation of custom workflows within the low-code/no-code flow studio.
Empower Agents with AI Assist
Accelerate resolution times and increase agent productivity with automated ticket resolutions and AI Assist. Provide agents with targeted suggestions and coaching based on knowledge articles, similar tickets, resolution notes and next-best actions. Accelerate case resolutions with automated ticket classification and routing.
Continuous AI Learning
Improve the accuracy of predictions and recommendations with automated and collective AI learning across user activities, tickets, historical conversations, knowledge bases, and agent interactions.
What Our Customers Say
"Aisera is leading AI technology that enabled us to improve our productivity while still providing a compelling customer experience. Our partnership with Aisera has allowed us to achieve significant business outcomes, and we are now seeing appreciable deflection of cases within the addressable spectrum for Aisera."
SVP, Customer Success Group at McAfee
"During these challenging times, NJ Transit provides essential transportation to hospital workers, first responders, and others on the front lines. We partnered with Aisera's AI Service Desk and Microsoft MS Teams in providing self-service to users, employees, and service agents to improve NJT operations, productivity, and user engagement."
Chief Technology and Security Officer at NJ Transit
"At Dartmouth, we wanted our faculty and students to have immediate answers to their Information and Technology questions online, especially during COVID. With Aisera, we have seen over 60 percent of all IT service desk inquiries auto-resolved through Aisera's AI Service Desk. Aisera is helping us achieve our goals to innovate and deliver an AI-driven conversational service experience throughout our institution. Our service desk staff and customers are extremely happy with our new next-gen service desk delivery model."
CIO at Dartmouth
"Aisera is a leading-edge technology that delivers immediate value. Aisera's AI Service Desk solution is very unique in improving user experience and resolving IT requests autonomously—reducing the workload on service desk teams, while enabling them to focus on critical business issues."
Federal Vice President, Cloud, Infrastructure, and Security Services at SAIC/Unisys
"By streamlining our employee service experience to auto-resolve support requests using workflow automation, knowledge, and service catalogs from ServiceNow, Aisera enables Zoom employees to get instant answers to their IT issues. We are ecstatic with the results and benefits that Aisera's AI Service Desk has given us."
Head of IT Infrastructure and Employee Services at Zoom
"Dave wants customers to feel empowered when using our product. Conversational AI a great way for us to immediately provide value and elevate our customer experience. Aisera is a partner we could collaborate with to create and quickly deploy a smart solution that puts customers first, enabling us to see results almost immediately. We look forward to growing with Aisera as a partner and creating dynamic customer solutions."
VP, Customer Success at Dave
"At Ciena, we want our employees to be productive. This means they shouldn't be trying to figure out how a ticketing tool works, nor should they be waiting around for a tech to fix their issues. We believe that 75 percent of all incidents can be resolved through Aisera's technology, and we believe we can apply Aisera across multiple platforms. Aisera doesn't just make great AI technology, they understand our problems and partner with us closely to achieve our mission."
CIO at Ciena
"Aisera's technology helps us predict complex operational issues before they can affect our business operations. Aisera's AI Service Experience solution provides value for Autodesk by successfully detecting and predicting major incidents to improve business uptime and service availability."
CIO at Autodesk
We chose Aisera to provide Medallia employees great employee experiences as we moved campuses in the Bay Area and continue to scale and increase our global facilities footprint. The Medallia Work Place Services (WPS) team implemented the Aisera platform and its AI-driven chatbot as its first form of global support.
CIO at Medallia
"Aisera is definitely cutting edge above a lot of other vendors we looked at. Automated intelligent workflows really stood out with Aisera and we saw an immediate pick up in resolution rates that reduced customer effort and helped us drive business outcomes."
CIO at Aryaka
"Aisera's AIOps solution is yielding good benefits and value for Autodesk's IT Operations and Service Management teams by preventing outages. Autodesk is now able to proactively detect and predict major incidents with Aisera's Major Incident Predictor and Dynamic CMDB. Aisera is helping us improve business uptime and service availability by auto-resolving incidents and delivering a fast MTTD."
Operations Manager at Autodesk
"As a service provider to businesses ranging from mom-and-pop shops to global enterprises, 8x8 is always looking for ways to innovate our customer service experience, and Aisera is a critical part of that. Their Conversational AI empowers us to auto-resolve support requests in seconds, and our customers love how quickly they can get answers to get on with their business. Aisera's AI Customer Service solution is game-changing!"
Sr. Manager, Customer Support Operations at 8x8
"Aisera's AI technology is transforming our Service Desk to enable a true self-service experience for our employees. With Aisera, we can provide faster solutions to employee problems and provision their requests from IT. Aisera's conversational AI and RPA have significantly improved our employee experience in requesting catalog items and searching knowledge bases for relevant answers to continuously self-learn and improve."
IT Service Desk Manager at Ciena